In 2012, at the first Historic Grand prix at Zandvoort, we had a meeting with Italian driver Manfredo Rossi di Montelera. Although we had heard of his name and took notice of him in the programme, as he was driving the Lotus 80 in the Masters Historic F1 Championship, we somehow kept him in mind for the race. So, it was by mere coincidence that after his victory of the first race on saturday, we decided to seek him up in his pitbox to congratulate him, sharing our happiness for that victory in the beautiful Lotus 80! Luckily he was still there, talking to one of his mechanics; the Lotus cooling down; his trophy in the cockpit and a bottle of champagne on one of the sidepods of the car. Tipping him on his shoulder and shaking hands to congratulate him, he really seemed to appreciate this…..
In a few minutes we were introduced to each other; my son Damian was also with us, and he introduced us to his wife Caroline;
at that moment we did not know she was also racing…
What followed was a chat about the race and the Zandvoort track and especially the car. When I mentioned that I am owning a model kit of the Lotus 80 his eyes began to shine and I promised to send him photos of the model.
We exchanged email addresses and he invited us to come to the Spa 6 Hours event three weeks later. We promised to consider this and the actual basics for beginning the website started from there.
At the Spa 6 Hours in 2012, after some correspondence, we met again and at the event near the hospitality unit, I offered him a frame with a photograph taken by me, from his victory at Zandvoort. This was a very nice occassion as he appreciated this gesture very much..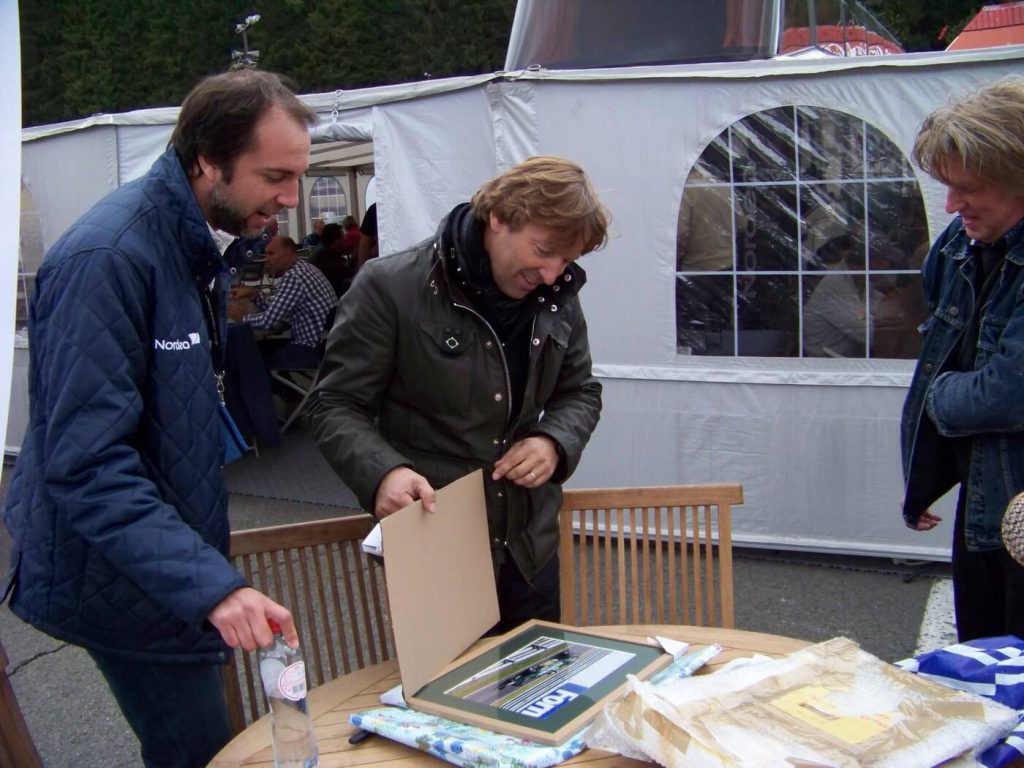 Up to this day we keep contact with him and we saw each other again at the 2013 event at Zandvoort and Spa.
For racing fans, like us, it is wonderful to know such a friendly person like him, we do hope to continue this in the near future while following his activities….
Also his wife Caroline is a very nice lady who we also admire for her racing activities in the Formula Junior Class. Among Manfredo and Caroline are his loyal mechanics; some very fine gentlemen..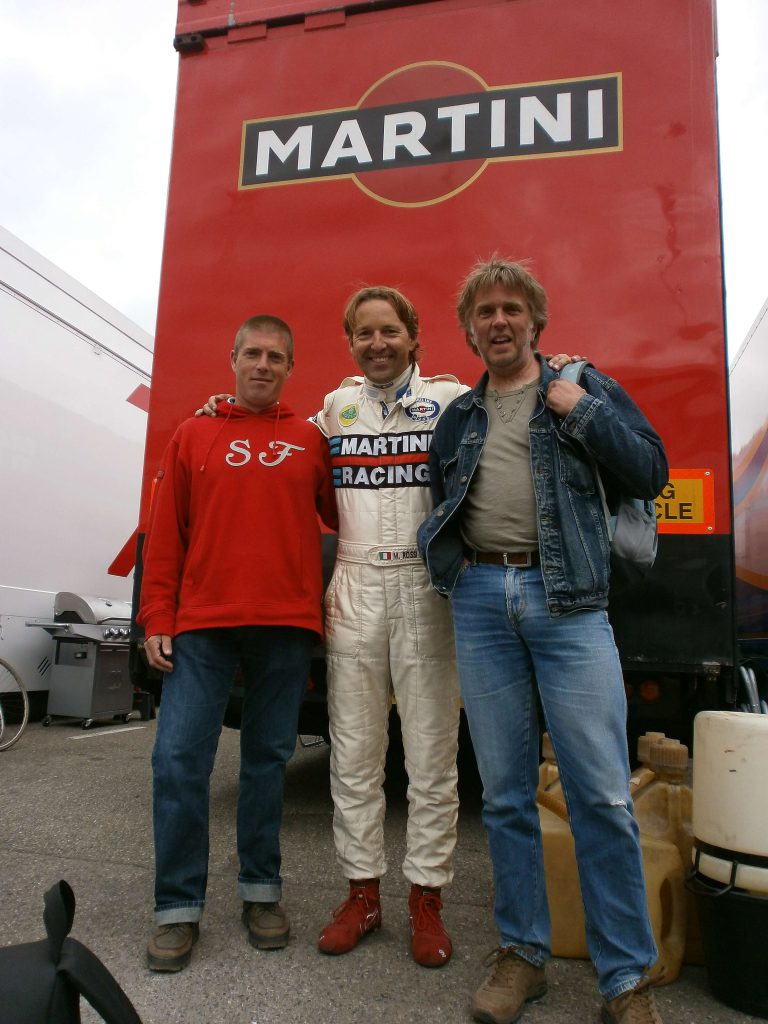 As already mentioned, Manfredo competes in the Masters Historic F1; he owns all Martini liveried cars from which we witnessed him in the Lotus 80 and Brabham BT 42. For the Historic Sportscars he drives an Osella Abarth from 1973, and in the Formula Junior Class he drives a Lotus 22.
He also drives an orange Porsche 911 in Historic Touring Cars. Long may we continue our meetings……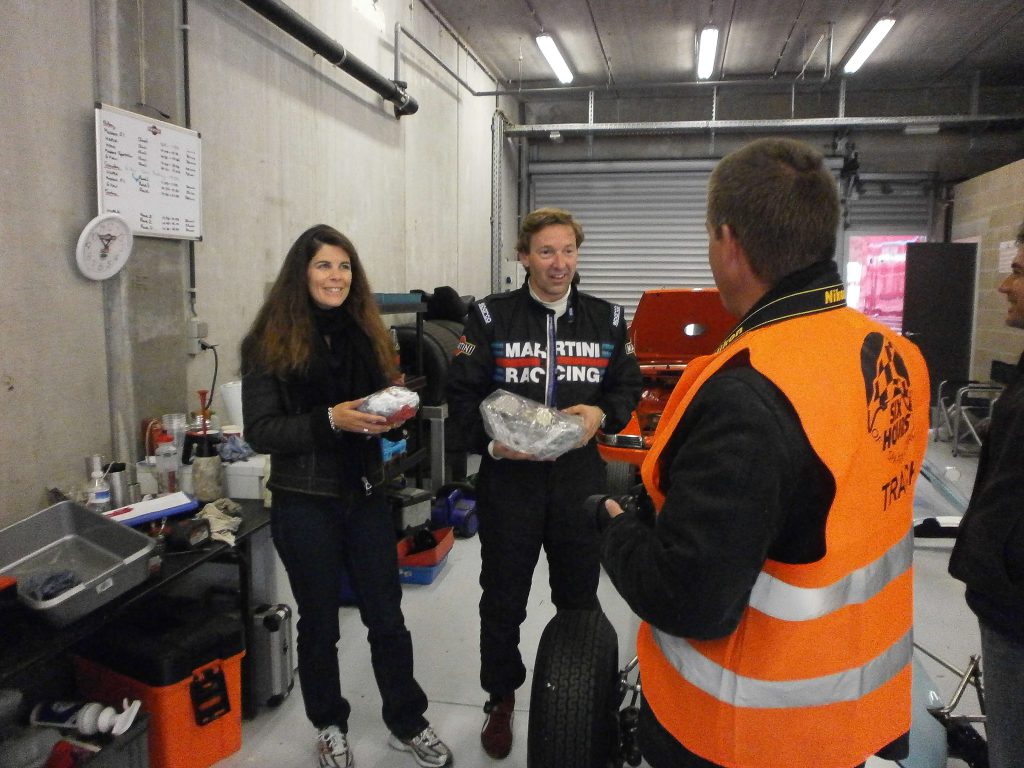 Having arrived in 2014, we already were looking forward to the events at Zandvoort and Spa, to catch up and meet each other again….
In the meantime we did follow Manfredo's race activities during the season through the Masters Historic website.
We also got the opportunity to watch footage from the Monaco Historic Grand Prix, where he drove the magnificent Brabham Alfa BT 45!
By the end of august, a mail reply informed us he was looking forward to see us at Zandvoort….
We met at Friday morning, during the free practice sessions, and eventually it was Caroline who first spotted us at the paddock, greeting us enthusiastically….
During the weekend, we followed the races and progressions of his efforts, catching up with him every day, telling us almost every detail; like the Osella Abarth sportscar which was going so well around the track and such a joy to drive….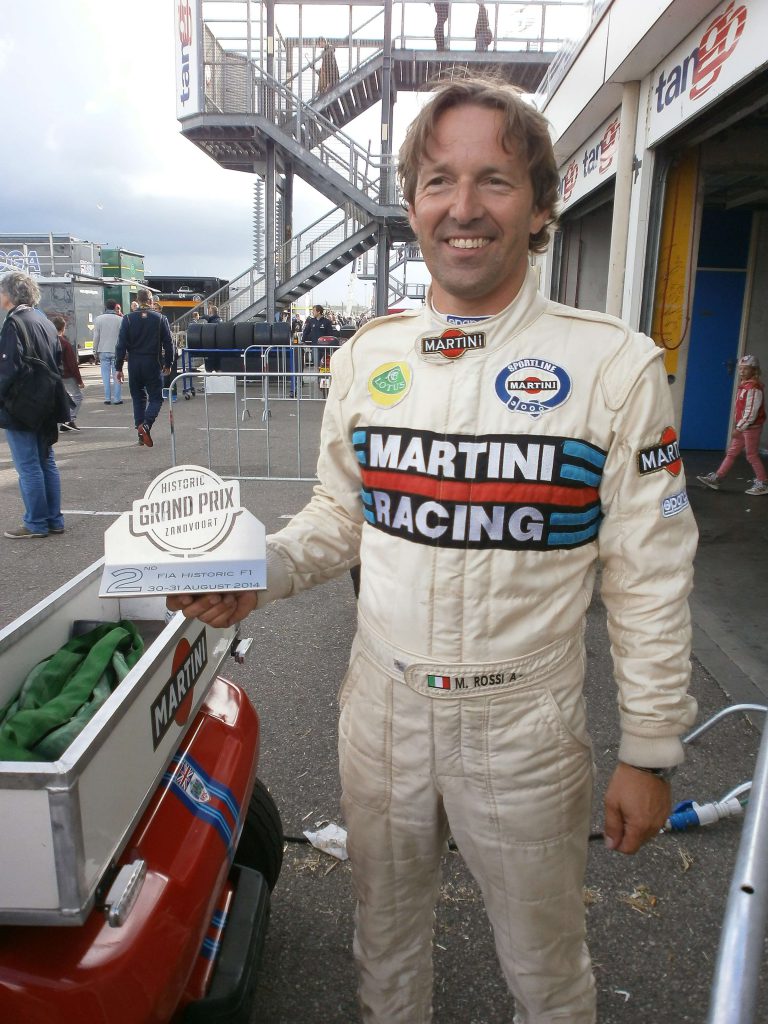 After saturdays F1 race, the balance of the Brabham BT 42 was a bit worrying, however on sunday he told Noel that this was no longer an issue…. Time inbetween allowed us to have some nice talks about other things; which was very nice, like learning to know each other a little better….
At the end of sunday afternoon, the moment came for the inevitable goodbye after a very enjoyable race weekend, and not without an unexpected surprise…. In the paddock he was just coming back from the podium ceremony, his trophy from his second place in his hand and a champagne bottle; offering us to taste a little…..
The bottle was given to us as a souvenir and he signed it on the label for us, we were very much obliged…
And so it was a huge thanks for the support and a see you at the Spa Six Hours; because with two second places in the pre 1978 class Historic F1 Championship after Zandvoort he was lying ahead in points…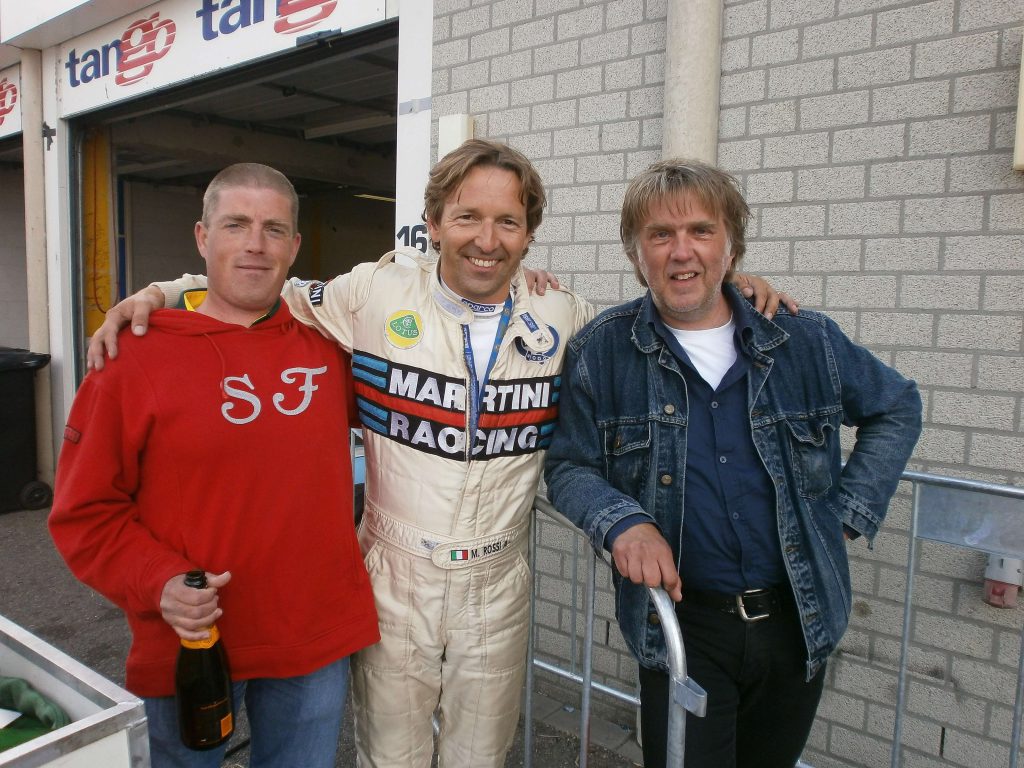 We drove off to the Spa Six Hours an the sunday in a very good mood, as this is a wonderful event with great hospitality… Catching up with Manfredo and Caroline was a little later on the day in their pit box because firstly we took the opportunity to take photographs on the outside of the track; the Historic Sportscar Race in which Manfredo is competing was already on its way….
So we saw each other again by midday, welcomed again very nicely after three weeks….. After having a chat we went off to the same spot on the track to witness the F1 race… Noel took the opportunity to photograph the preparations before and went to the starting grid just before the cars parked for their starting positions; receiving a thumbs up from Manfredo in his car as a reply to the thumbs up he received from him…..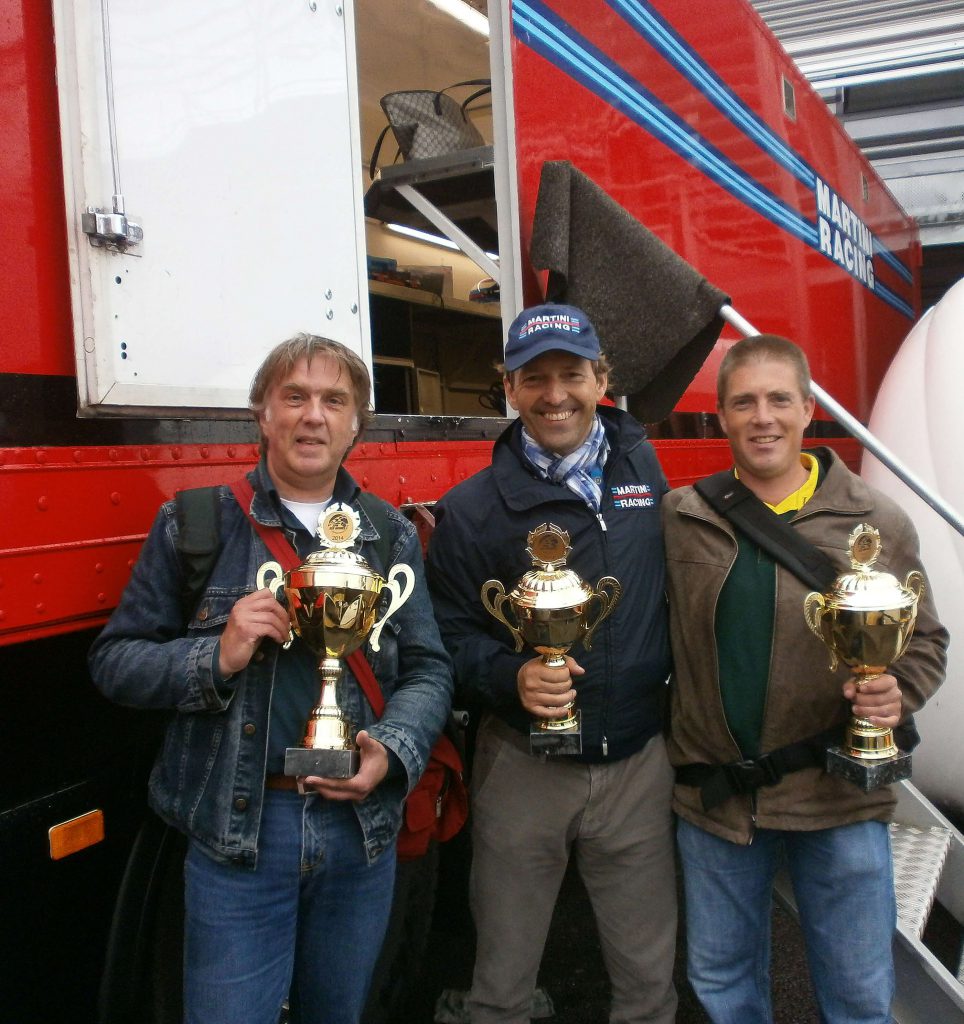 Some time after the race we met again near the Martini transporter, and, as we already heard from the circuits speaker, we could congratulate him on his first place in the race in the pre-78 class and becoming champion; a special moment we cherish! Caroline took the occassion to picture us with Manfredo's trophies of the weekend, well done! Finally it was again shaking hands for a longer farewell, after receiving some very warm thankful words from Caroline, whom we offered a framed picture featuring her in her Formula Junior car, photographed by Noel at Zandvoort a year before… just a gift for the friendship we share…….
We are curious what next season may bring… needless to say we keep contact…….
With 2015 already well on its way, we could not believe in August it was time for the Historic Grand Prix at Zandvoort again! Having taken notice of our e-mail contact, Manfredo let us knew he and Caroline were delighted to catch up with each other again there…
As if it wasn't so long ago, it really felt like a short period of time; meeting friends on a familiar occassion….
We arrived at the Friday just in time for the free practice of the Masters F1 cars, walked along the paddock and moved into the pitlane through the pitboxes. Manfredo was just stopping for a check at his pitbox, as we were having our cameras ready…
How nice it was that he was waving welcome sitting in his car as one of us took photographs in front….
After he left for the track again, we catched up in the pitbox with Caroline, who was delighted to see us and we were having a little chat. After the free practice and a conversation with his mechanics about the proceedings, we finally could talk to him and Caroline for a little longer at the back outside of the pitbox. As mentioned before it felt so nice and comfortable like old friends…
Fantastic to see he had a completely new green racesuit specially made for him! Also his helmet had a refreshing new element in the shape of a dark green dot on top with a golden circle around; very beautiful and it suited well with his revised Lotus 22 Formula Junior car; check our photos… We also appreciated meeting again with his mechanics Dave and Kerry, who already knew us from our visits the years before. And on this occassion time finally allowed we could have a conversation with chief mechanic Sam; who is always very busy… He recognised us from the published photos on the site and now there was an opportunity to introduce ourselves more to each other; a wonderful guy who takes passion and care for Manfredo's cars to a high level….
We would meet again later on the day as we were preparing for photo spots at the track and Manfredo for his further racing activities during the day……
How funny it was in the afternoon when we were at the paddock again for a break and, when walking by, invited us to join him at the Masters Hospitality unit on the terrace! We were offered a cool drink and pleased to meet with his friend and fellow driver Christophe d'Ansembourg from Belgium. Enjoying the Zandvoort sunshine during conversation was very entertaining…. Especially some jokes between them!
In the end they had to go for the free practice of the Historic Sportscars; which we also had to take photographs from…
We returned after that session to say goodbye until Sunday, as for this year we could not make it for the Saturday regarding circumstances. With pleasure and appreciation we looked back on meeting again, and see you Sunday…..
Our meeting on the Sunday turned out to be for some brief moments, as he told Noel when he visited his pitbox after the Formula Junior race, they would soon leave for Paris after the Masters F1 race, to avoid traffic and delay….
So all too soon at the end of that race for saying goodbye, after heading to his pitbox on a very crowded day!
A short conversation on how it all went; he nearly lost the Lotus 80 at the Kumho corner while we were watching the race there and to congratulate him on his Formula Junior victory and off we went; saying goodbye to Caroline was even shorter as she was quite busy, which we understood. Afterwards we wished time had allowed us more to spent, but looking back it was all very worthwhile again1
See you again at Spa…….
For this years Spa Six Hours edition, we definitely decided to go for a whole day onto the evening experiencing the Six Hours Endurance, also for the benefit for photos on the site. Last year we got this advice from our befriended journalist, Mattijs Diepraam, who we also met again and spent some nice time with at the Spa paddock and pits,enjoying some conversations…..
Thanks to the wonderful organisation of the Six Hours event, we, in representing our website, again got accreditation for photographers!
The atmosphere at the event was marvellous, like in previous years, something magic so to speak; you have to visit it once to experience this! It was later on the day when we met Manfredo and Caroline again near their pitbox; they had no duties in the morning, so they stayed a little longer in their hotel, he told us. Of course it was a welcoming see you again…. And the same with chief mechanic Sam….
On the annual group photograph above you can see his new green racing suit in all its glory, which we alrady mentioned in our Zandvoort story; if it ever will be auctioned, please contact us, we joked…..
He talked us through the ongoings regarding the practice sessions from the friday and that he would be competing in the Six Hours Endurance in a Porsche…..
We really much enjoyed our positions taken at the inside of the old Bus Stop Chicane corner during the Six Hours Endurance and saw some marvellous racing and fights between all contenders including Manfredo in his no. 95 Porsche….
It was at the beginning of the evening that we headed back to his pitbox after we noticed his stint in the Endurance race was over.
When we arrived there, he was in conversation with someone near the pitlane, but when he spotted us, he immediately took the moment heading to us, he was also aware that we were leaving for the journey home in the evening….
Quite tired and sweaty he told us it was in some circumstances a difficult race as some contenders were not easy and fairly competing!
He smiled when we told him we took some great photographs during the Masters F1 race, and admitted again the Lotus 80 is a difficult car to drive, especially at Spa…. But this smile was also because Noel had told him earlier at Zandvoort he looked beautiful in the rain, and in this case it was raining again during the Masters F1 race, just like in 2014…..
In the end, he wished us very well, and if we would give a signal about a website update, well. we surely do! A firm shake of hands; he really had to change his overalls for his clothes as it was getting colder outside…..
See you again and all the best to Caroline when she was also there talking to Sam who we also greeted until the next time…..
A pity we could not have talked so much with Caroline, sometimes it goes like that in a busy schedule during a raceday….
We look forward to the next opportunity, as we still keep contact!
All of a sudden the Historic event at Zandvoort 2016 arrived….., another year ahead.
We packed and left home early in the morning on friday, the first day, weather looked fine and in the mood after confirmation by email from Manfredo looking ahead by meeting each other over there….
Soon after the free practice for the Historic F1's, we left the pit garages and walked almost straight onto Manfredo and Caroline; accompanied by their son and Sam…
And it was lovely to see their little boy, as we introduced ourselves to him…
They were heading off to the briefing for the Formula Junior Class. So after greeting each other, which, as always after a year is heartwarming, we would catch up later…..
So it took to the end of the day to meet with some more time to talk. At the paddock area, near the transporter truck of Sam's company, we were invited to come on in there in the office space; as it was a little drizzling outside…
So we could have a chat together, enjoying more time in asking how we both were doing. Wonderful to meet each other again as it all felt so comfortable and easy; being friends for quite a some time now…
We all shared a good laugh, because Manfredo was being called from outside the truck by some colleagues; to make an appointment for dinner time…
He replied with "just a moment, we are having a private photo session"….. Funny indeed in the context of shooting our annual meet & greet photograph again….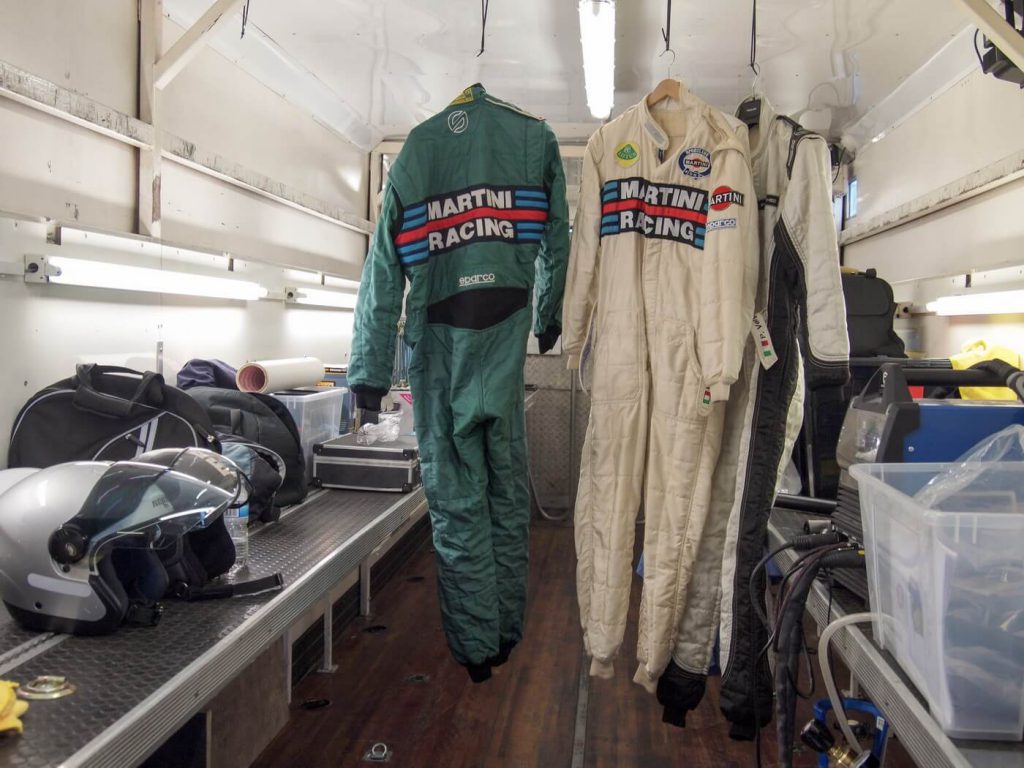 Shortly after that, we left, in the prospect of catching up on sunday again; we had to skip for the saturday unfortunately….
So nice to see the three of them, on the path to the exit of the track, waving from their scooter, carrying the family all together to their hotel…
Sunday turned out to be a day with interesting conversations and a small surprise…
Having been watching the start of the Historic Sportscar Race from the main grandstand we continued our way to the Pit & Paddock area. Firstly, we visited Manfredo´s pitbox, heard of a safetycar situation and witnessed some pitstops; capturing the one with the camera Manfredo did in sequence. Later on, for the last part of the race, we discovered a nice spot at the inside of the Tarzan corner, inbetween the path with grass where on the right the fences are and a small pavement. On the left there is the large VIP Pavillion, and right in front you can watch over the fence the track of the mentioned corner….
We stayed there for a while, taking some images, see part 2 of the 2016 HGP Zandvoort at the gallery section.
After the race was finished we returned to the paddock area, where we had a nice conversation with Sam, from Kendle Adams Motorsport, whose company prepares Manfredo's cars. Time allowed us to hav a enjoyable chat as he is always quite busy; we learned to know him a little better as he told us a lot about his work and the company.
Soon Manfredo came from the parc fermé, greeted us and firstly discussed and evaluated the race with Sam. He invited us to join in at the prize giving ceremony at the Masters' hospitality unit, he became third in his class, and as you can imagine, we were feeling both privileged and honoured to join. Sitting at a table and enjoying a coffee we were having a good time! We were also introduced by Manfredo to Leo Voyazides; a colleague driver, mentioning our website. After the ceremony we also briefly met Mr. Ron Maydon; chairman of Masters Historics, a very nice guy, and before we left Lotus driver Gregory Thornton…. Going ahead, we greeted Manfredo and Sam catching up each other at the end of the day…..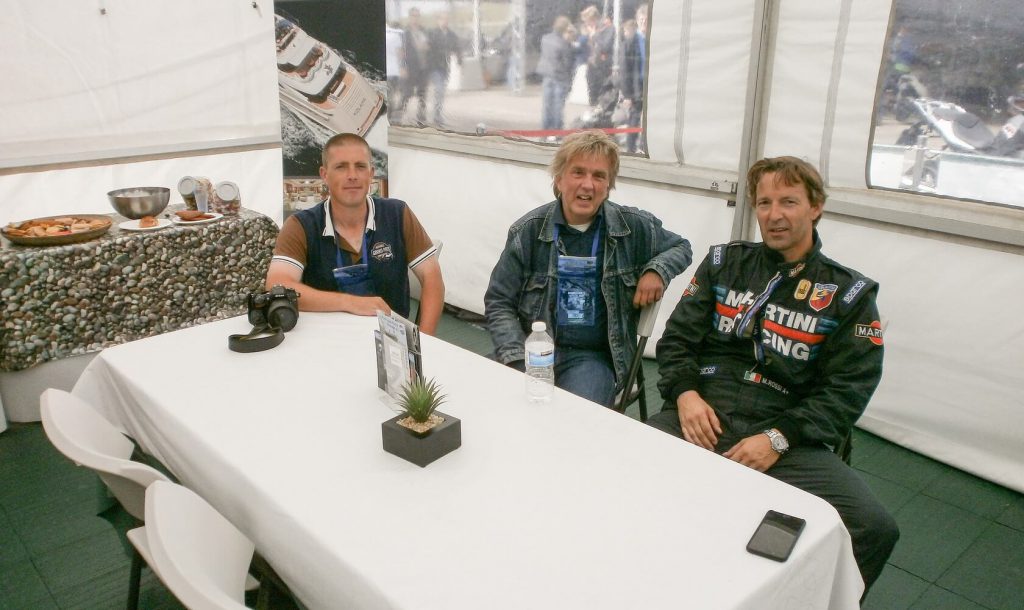 Turn to part 2 of the gallery for some images….
Some time after the Formula Junior race had finished by the end of the afternoon, we watched the proceedings at the paddock from most the F1 teams, clearing up everything, we even got the chance to greet driver Michael Lyons briefly and handed over our visitation card which he accepted gratefully…
Again we founded ourselves at the truck of Manfredo's cars hearing his reaction to the bad luck he suffered in the Formula Junior race, so sorry for him after his victory from saturday….
All in all, after some nice chatting amongst each other, again the moment came to say goodbye in the finest of moods, already looking forward to Spa….
So the handshakes and grateful words;, Manfredo, Caroline, Sam and his nice colleague Ned, and especially from Manfredo and Caroline's son, made us leave with a good feeling….
Those two weeks inbetween were flashing by; time to move on to the Spa Six Hours edition of 2016!
We were just in time to watch the last laps of the Formula Junior race! As you can see on part 1 of the gallery, Noel succeeded to snap some images in the last lap…!
We should have left earlier for home, time was not on our hands; however, it did not spoil or intervened the rest of the day….
As we described so oftenly; the atmosphere is quite unique at the Spa Six Hours and the rest of the day proved to be full of worthwhile results….
We met Manfredo, Caroline and Sam in the morning behind their pitbox at the paddock with a welcoming nice to see you again; he expressed his happiness to us for obtaining our photo passes for the day and asked what our schedule was during the course of the day. He would compete in the Six Hours Endurance race, but at that particular moment he was not knowing when he would be driving the car; an orange Porsche 911 which he shared with two German co drivers…
After our conversation we both did go our way, arranging to catch up again later….
Although we regretted not seeing him drive in other race classes, we truly enjoyed every effort we undertook to record most of the races on photograph; meanwhile we met some familiar people and the fine weather secured some good moods….
It was at the end of the afternoon at the old pit building we saw Manfredo again; he just assisted with a driver change of the Porsche during the Six Hours and told us afterwards that he was to be going to do his stint in the evening…
Unfortunately for us, this was just near the moment we had to leave for home…..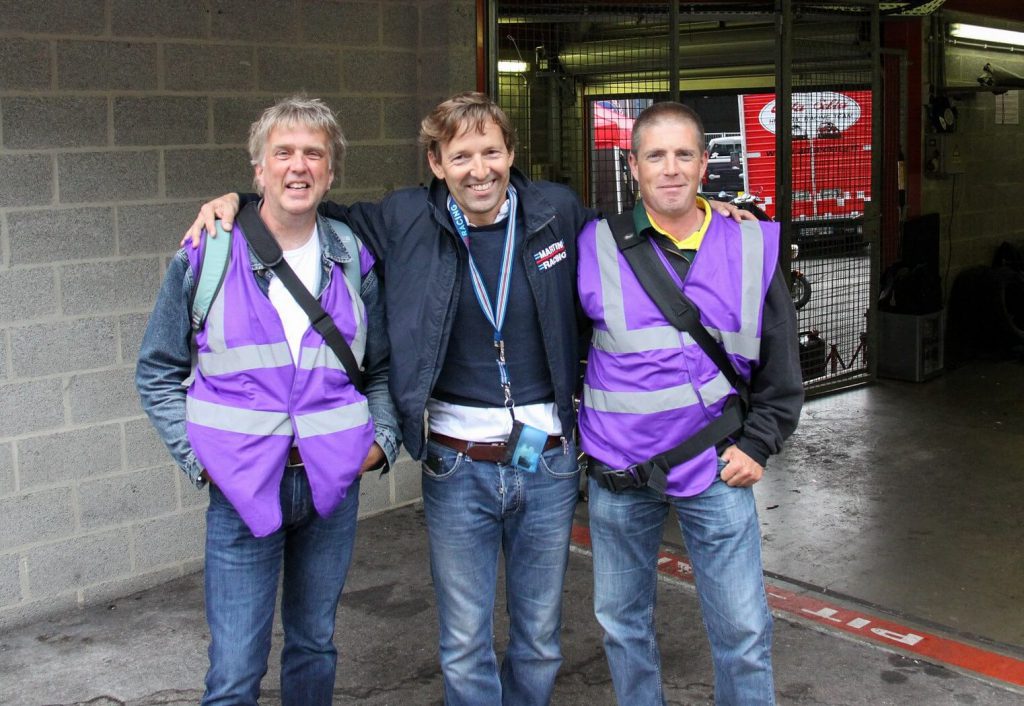 Our conversation summarised the day; we wished him good luck on the Endurance race, and the inevitable goodbye was on the brink…..
We already greeted Caroline, Sam and the others; keeping an eye on the timing at the other pitlane….
Cheers to five successive years of meeting each other now, we keep in touch so let's see what 2017 has in mind!